50 Cent just put most of us to shame after he gifted his girlfriend, Cuban Link, with a brand new Mercedes Maybach truck for Christmas!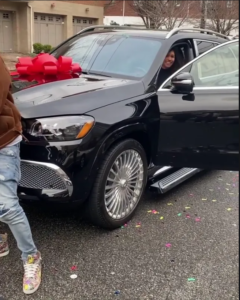 The 'In Da Club' rapper not only dropped close to $250,000 on the mind-blowing Christmas present, but he also surprised his girlfriend with the gift by walking her out fronts where the truck was hidden inside a giant cube!
And…there's more. 50 Cent had a host of friends stand inside the box and shoot off confetti poppers right at the moment she approached the vehicle. Ya, he is winning.
The interior of this ride comes fully equipped with a tiny refrigerator where you can store your champagne bottle, while on the way to the club! Oh ya, and her boyfriend owns his own champagne company!! "It's the fridge in the back seat for me lol 😂 congrats sis," a fan posted after seeing the snaps!
The best one…comedian Michael Blackson slipped into the comments saying, "I hope my girl don't see this post because I got her a Mercedes key chain for Christmas. (50 Cent) stop putting pressure on!"
Fifty posted video of the entire thing on IG, and captioned it, "BIG CUBE MAYBACH 2021 edition 💣Boom🔥Happy Holidays, Merry Christmas!"
View this post on Instagram